Security Council finally agrees on resolution addressing Aleppo
After two draft resolutions addressing the situation in the Syrian city of Aleppo have failed to be adopted this autumn due to Russian and Chinese vetoes, the Security Council has finally agreed on a resolution to send observers to the city to monitor the evacuation of civilians.
Monday the 19th of December, the Security Council unanimously voted for a draft resolution that would deploy UN observers to monitor the evacuation of civilians from Aleppo. The resolution is the result of three hours of private discussions, after France circulated a draft resolution suggesting UN observers on Friday, that Russia threatened to veto. Russia proceeded to table its own draft resolution, which allegedly did not mention observers specifically but called for arrangements to monitor the condition of civilians remaining in Aleppo.
The adopted resolution reportedly asks the Secretary-General "to take urgent steps to make arrangements, including security arrangements in consultation with interested parties, to allow the observation by the UN and other relevant institutions of the well-being of civilians… inside the eastern districts of Aleppo". It also called for "adequate, neutral monitoring and direct observation on evacuations from eastern Aleppo and other districts of the city".
Evacuations from Aleppo started on Thursday under a deal that allows Syrian government forces to take full control over the city, the eastern parts of which has long been controlled by rebel groups. Disagreements caused the evacuations to stall on Friday, and on Sunday some of the buses meant to carry out the evacuation were attacked and set on fire. Operations resumed on Monday, with 5 000 people leaving Aleppo in 75 buses.[/fusion_text][fusion_text]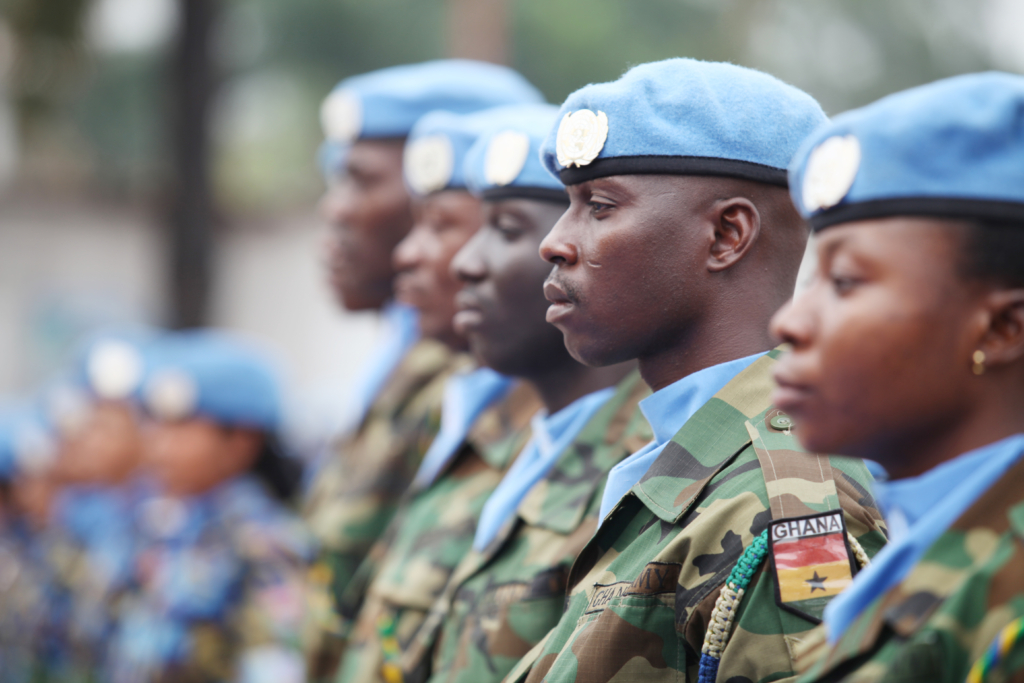 [/fusion_text][fusion_text]Sources:
Sky News: UN 'reaches agreement' on Aleppo observers ahead of vote
http://news.sky.com/story/un-reaches-agreement-on-aleppo-observers-ahead-of-vote-1070176
Image source:
By MONUSCO Photos (UN Peacekeepers Day celebration in the DR Congo) [CC BY-SA 2.0 (http://creativecommons.org/licenses/by-sa/2.0)], via Wikimedia Commons https://commons.wikimedia.org/wiki/File%3AUN_Peacekeepers_Day_celebration_in_the_DR_Congo_(8879905969).jpg[/fusion_text][/fusion_builder_column][/fusion_builder_row][/fusion_builder_container]