The vetoes of 2018: Indications for optimism?
Three illegitimate vetoes have been cast in the Security Council in 2018, all of these have regarded the Middle East, and have undermined the effectiveness of the Council in its own way.
On 26 February 2018, the draft resolution on the Yemen sanctions regime (S/2018/156) was vetoed by the Russian Federation.
The 10 April 2018, a resolution (S/2018/321) was proposed to launch an independent investigation on chemical weapons usage in Syria. This was vetoed, again, by the Russian Federation and is remembered as the sixth resolution of this kind which has been blocked by Russia.
Finally, on the 1 June 2018, a resolution was proposed to function as unitary statements by the Security council on the Israeli-Palestinian conflict (S/2018/516). This resolution was blocked by the USA. 
The year marks a clear decrease in the number of vetoes cast, compared to last year. Although, one should take note that 2017 had a larger amount (6) than the prior 2000s as a whole and with this in mind, the number of vetoes have not decreased dramatically in the longer period. 
One should remember that the current situation in the UNSC has not been ignored by the General Assembly. Assembly President María Fernanda Espinosa Garcés (Ecuador), stated in November this year, that "the Council must adapt to new political realities, with increased representation boosting its legitimacy and the implementation of its decisions". This was backed up by the representative of Sierra Leone, which speaks on behalf of the African Group that "most issues discussed in the 15‑member organ are related to this continent. Its 54 nations must be involved in decisions concerning not only international peace and security, but its own very continent" . Africa demands no more, and no less than two permanent seats in the UNSC, which includes the veto power. Some members of the assembly called for the abolishment of the veto power in the UNSC.
The call for regulation of the veto power is not something new for the UNSC, nor the General Assembly. But, whether or not these calls for change will translate into actual regulations‒only 2019 can tell.  
[/fusion_text][fusion_text columns="" column_min_width="" column_spacing="" rule_style="default" rule_size="" rule_color="" class="" id=""]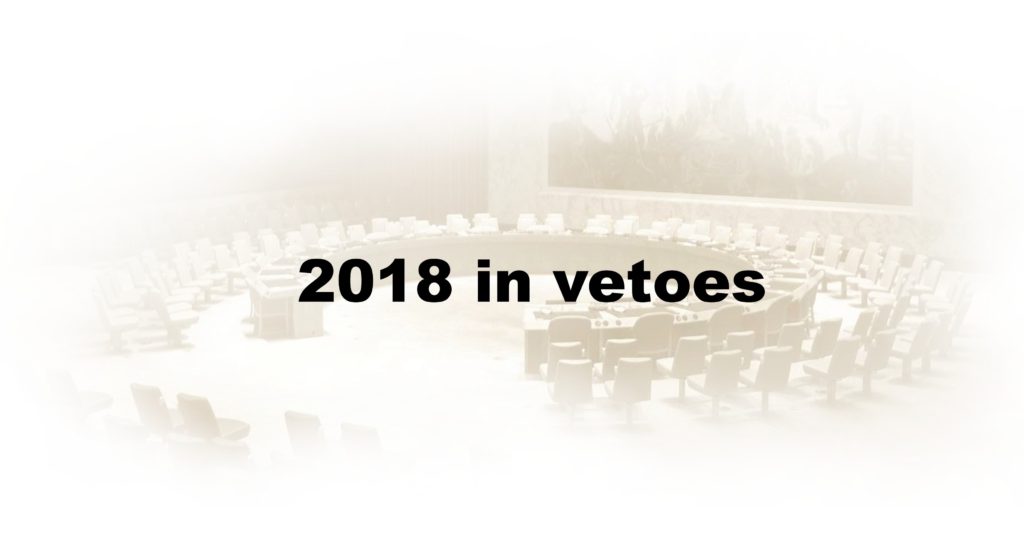 [/fusion_text][fusion_text columns="" column_min_width="" column_spacing="" rule_style="default" rule_size="" rule_color="" class="" id=""]
Sources:
United Nations, November 20th 2018. "Member States Call for Removing Veto Power, Expanding Security Council to Include New Permanent Seats, as General Assembly Debates Reform Plans for 15-Member Organ". Available at: https://www.un.org/press/en/2018/ga12091.doc.htm
[/fusion_text][/fusion_builder_column][/fusion_builder_row][/fusion_builder_container]