UN Day Celebrated with 2017's Fourth Veto
The celebrations of the UN day on October 24 saw a disappointing occasion in the organization's history. Once again, a resolution on the Syrian Civil War was vetoed by the Russian Federation. For the fourth time in 2017, a veto has been cast in the UN security council.
The resolution regarded, as in all other cases this year, Syria. Following the reported use of chemical weapons in Syria in 2015, the UN security council created the Joint Investigative Mechanism (JIM) together with the Organization for Prohibition of Chemical Weapons (OPCW). At that point in time, all 15 members of the security council voted for the resolution. In 2016, the investigation by JIM was prolonged for a year and continued to report to the security council about the usage of chemical weapons in Syria.
However, this week the investigation came to an end when the Russian Federation cast its veto against the resolution prolonging the investigation mandate. The United States' ambassador to the UN, Nikki Haley, expressed her criticism, claiming that there were no limits for Russia's dedication to keep its ally, Bashar al-Assad in power. The Russian ambassador Vassily Nebenzia responded to this by stating that Russia desired to see the report put forward by JIM on October 26, before prolonging the mandate.
Last time OPCW came with a report on the Syrian regime's use of chemical weapons, in June this year, the United States responded with missile attacks on regime air bases.
Consequences following this week's veto are that as of now, there is no investigation regarding usage of chemical weapons in Syria. Moreover, it has become much easier to get away with using chemical weapons since the watchdog on the ground in Syria has been removed.
 [/fusion_text][fusion_text]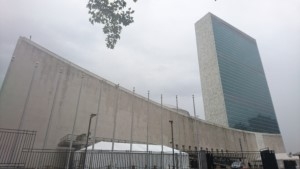 [/fusion_text][fusion_text]Sources:
"Russia vetoes UN resolution on Syria chemical attack probe" The Telegraph http://www.telegraph.co.uk/news/2017/10/24/russia-vetoes-un-resolution-syria-chemical-attack-probe/

Image source:
Private image, John Nellfors[/fusion_text][/fusion_builder_column][/fusion_builder_row][/fusion_builder_container]