Russia and China cast the first vetoes of 2017
An old, and previously discussed question becomes current again, with China and Russia using their veto to stop yet another resolution concerning al-Assad's use of banned chemical weapons.
Several reports have been published by various agencies concerning the Syrian regime's use of chemical weapons in Syria's civil war. In September 2016, for instance, the UN's watchdog regarding chemical weapons – the Organization for the Prohibition of Chemical Weapons (OPCW) – reported that the Syrian regime, alongside such groups as the so-called Islamic State had been using chlorine gas, among other prohibited chemical weapons (see Report on chemical weapons causes Security Council frictions, Sept. 4th, 2016). Any action, however, from the UN against this use of chemical weapons, was blocked by Russia and China, who have ties to the regime in Damascus.
A week ago, yet another resolution in the Security Council was stopped by the use of the veto. For the seventh time since the Syrian Civil War started in 2011, Russia has used its veto right to prevent any sanctions or UN actions directed towards President al-Assad. Despite the fact that President al-Assad agreed on destroying all chemical weapons back in 2013, OPCW has found evidence on the use of chemical weapons by governmental forces three times since then. The resolution put forward on Tuesday, February 28th, would, if voted through, have banned the sale of helicopters to Syria and led to sanctions against multiple Syrian officials. According to Russia's UN delegation, the veto was cast due to "suspicious sources" in the report about chemical weapons, and that it "undermined" the current peace attempts in Kazakhstan, orchestrated by the Russians. The Chinese delegation motivated its decision by their unwillingness to lose "momentum in the peace process."
However, this use of the veto power from Russia and China to prevent any action against the Syrian regime, puts the international community in a paralyzed state, unable to act against human rights violations. Besides the tradegy of the suffering of the Syrian people, this behavoir further risks starting a trend where the use of chemical weapons by other states can go unpunished if they have the "right" allies within the Security Council. Such a scenario would deplete any work against such weapons, leaving them effectless.
 [/fusion_text][fusion_text]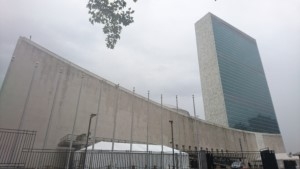 [/fusion_text][fusion_text]Sources:

UN Press: https://www.un.org/press/en/2017/sc12737.doc.htm
BBC News: http://www.bbc.com/news/world-middle-east-39116854
Image source:
Private picture, John Nellfors[/fusion_text][/fusion_builder_column][/fusion_builder_row][/fusion_builder_container]