New Zealand uses presidency to campaign against veto power
New Zealand has outlined an ambitious plan for change as the country assumes a month-long Presidency of the United Nations Security Council (UNSC). Among the goals of the plan laid out by Foreign Minister Murray McCully are restarting Israeli-Palestinian peace talks and lobbying for veto reform.
On the veto issue New Zealand publicly supports the French initiative, first put forward by France in 2013. It calls for the permanent five members (P5) of the UNSC (China, France, Russia, UK and USA) to refrain from using the veto when it comes to mass atrocity prevention. The initiative follows widespread criticism over the way the veto has been used to prevent the United Nations from taking action in conflicts like Syria and Ukraine, among others.
"France have put forward an idea that they should all voluntarily surrender the veto by agreement in areas where mass atrocities arise, and we think that is a really good idea," says Mr McCully in an interview with TV3 News. "It doesn't involve anything binding. It's something the P5 members should think about."
New Zealand is currently six months into a two-year term on the Security Council after successfully campaigning against Spain and Turkey last year. New Zealand will serve as President again in 2016.
While it is improbable that this July will be the month that the P5 decide to limit their power to prevent international interventions and sanctions, having the presiding country speak up in the veto question has brought it back to the top of the agenda. With more and more countries both inside and outside the UNSC in favour of the French initiative, pressure is growing on the P5 to somehow restrict their veto rights.[/fusion_text][fusion_text]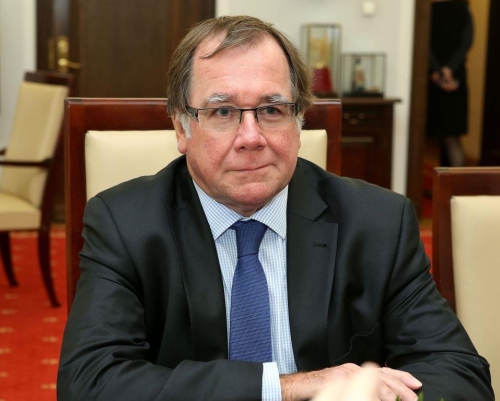 [/fusion_text][fusion_text]Sources:
"Murray McCully: End UN veto privilege", TV 3 News;
http://www.3news.co.nz/nznews/murray-mccully-end-un-veto-privilege-2015062716#axzz3fHJlLi69
"NZ takes turn in UN Security Council hot seat", TV 3 News;
http://www.3news.co.nz/nznews/nz-takes-turn-in-un-security-council-hot-seat-2015070106#axzz3fHJlLi69
"NZ to push for Israel-Palestine talks", Radio New Zealand;
http://www.radionz.co.nz/news/political/277361/nz-to-push-for-israel-palestine-talks
Image Sources:
https://upload.wikimedia.org/wikipedia/commons/6/60/Murray_McCully_Senate_of_Poland.JPG[/fusion_text][/fusion_builder_column][/fusion_builder_row][/fusion_builder_container]