Still no sign of sanctions
Syrian President Bashar al-Assad has allegedly, for the first time, been personally linked to the use of banned chemical weapons in the Syrian conflict. Despite this, Security Council member states have opted to not put forward a draft resolution on imposing sanctions due to expectations of a Russian veto.
The Joint Investigative Mechanism, a joint inquiry for the United Nations and the Organization for the Prohibition of Chemical Weapons mandated by the Security Council to identify individuals and organizations responsible for chemical attacks in Syria, has identified Syrian President Bashar al-Assad and his brother as linked to chemical attacks, Reuters reported in mid-January.
This has raised the question of imposing sanctions on al-Assad and other high-ranking individuals connected to chemical attacks. Already in December, the United Kingdom and France drafted a resolution to impose sanctions on key individuals, but the draft resolution was never put to a vote, as it was expected that Russia would veto any attempt to hold the Syrian regime accountable.
Those expectations do not seem to have changed. In the final days of the Obama administration, the United States pushed for the UK and France to put the draft resolution to a vote, but with no success. According to Security Council diplomats, the reluctance to introduce the draft resolution is due to issues of timing. There is fear that if the draft resolution was introduced and vetoed as expected, it could reverse the fragile positive trend that has allowed two resolutions to be unanimously adopted and peace talks in Astana to be arranged. Additionally, it is believed a vetoed resolution could essentially kill any chance of holding Syrian authorities accountable in the future. There is also uncertainty related to the change of administrations in the United States; it is still unknown how the Trump presidency may change council dynamics on the issue.
As a result of the lack of council action, the United States decided to move ahead with unilateral sanctions targeting 18 Syrian government officials. Those targets include several intelligence chiefs linked to the regime's use of chlorine gas on civilians in 2014 and 2015.[/fusion_text][fusion_text]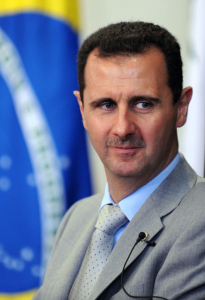 [/fusion_text][fusion_text]Sources:
Al-Araby: UN resolution due to sanction more Syrian regime figures
https://www.alaraby.co.uk/english/news/2016/12/28/un-resolution-in-new-syria-sanctions-over-gas-attacks
Foreign Policy: U.S. Allies Slam Brakes on Obama's Parting Blow at Putin
http://foreignpolicy.com/2017/01/12/u-s-allies-slam-brakes-on-obamas-parting-blow-at-putin/?utm_source=Sailthru&utm_medium=email&utm_campaign=New%20Campaign&utm_term=%2AEditors%20Picks
Reuters: Assad linked to Syrian chemical attacks for first time
http://www.reuters.com/article/us-mideast-crisis-syria-chemical-weapons-idUSKBN14X1XY?il=0
Image source:
By abio Rodrigues Pozzebom / ABr [CC BY 3.0 br (http://creativecommons.org/licenses/by/3.0/br/deed.en)], via Wikimedia Commons (https://commons.wikimedia.org/wiki/File%3ABashar_al-Assad.jpg)[/fusion_text][/fusion_builder_column][/fusion_builder_row][/fusion_builder_container]