Draft resolution on Syria vetoed
On Monday the 5th of December, a draft resolution calling for a cessation of hostilities in Aleppo was vetoed by Russia and China. This was the sixth draft resolution concerning Syria that has been vetoed since the beginning of the conflict in 2011. Meanwhile, a military victory in Aleppo for the Syrian government forces is looking imminent.
The draft resolution, introduced by Egypt, Spain and New Zealand, called for a week-long cessation of hostilities against all actors, including those designated terrorist groups, in Aleppo and demanded immediate safe access to all areas of the city for humanitarian assistance. The draft resolution also called for a ceasefire in the rest of Syria, but allowed for ongoing operations against terrorist groups.
Vitaly Churkin, representing Russia at the Security Council, claimed that the vote had been rushed, and that member states had not been given the customary 24-hour period to consider the final wording of the text. Furthermore, Churkin claimed that the resolution ignored and undermined ongoing negotiations between Russia and the United States on withdrawal of fighters from Aleppo and humanitarian relief, and that a ceasefire would only allow fighters to reinforce their positions and prolong the conflict. Liu Jieyi, the Chinese representative, stressed that council action should complement current diplomatic effort and that more intensive efforts to forge a Syrian-led and Syrian-owned political process were needed, adding that efforts to reach consensus in the Security Council should have continued. Venezuela also voted against the draft resolution, with Angola abstaining.
The positions of Russia and China drew heavy criticism from other Council members, with the United Kingdom's Matthew Rycroft dismissing Russia's arguments as hackneyed and Michele Sisson, the United States' deputy representative to the UN , accusing Russia of protecting its military gains. The atmosphere in the Security Council on this issue is uncooperative, to say the least.
On the ground in Aleppo, Syrian government forces are reported to have recaptured 75% of the previously rebel-controlled areas in the eastern parts of the city in the last weeks. Over 100 000 civilians are believed to still be under siege without access to food and medicine in areas still controlled by the rebels. According to Sergei Lavrov, Russia's Foreign Minister, Syria's army has suspended combat operations in the area to allow evacuation of civilians, but reports from the ground indicate that the fighting is still on-going, although somewhat eased.[/fusion_text][fusion_text]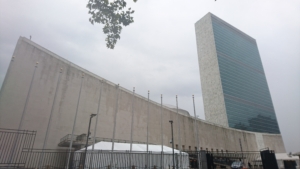 [/fusion_text][fusion_text]Sources:
textAl Jazeera: Syria's war: What went wrong in Aleppo?
http://www.redcross.ca/crc/documents/3-7-2_Tools-for-Teachers_Paxium.pdf
BBC: Syria conflict: Army 'suspends Aleppo fighting'
http://www.bbc.com/news/world-middle-east-38257013

UN: Security Council Fails to Adopt Draft Resolution to End Attacks on Aleppo as Two Permanent Members Cast Veto
http://www.un.org/press/en/2016/sc12609.doc.htm
Image source:
Private picture, John Nellfors[/fusion_text][/fusion_builder_column][/fusion_builder_row][/fusion_builder_container]