No arms embargo on South Sudan for now
While the United States has reversed its previous skepticism about an arms embargo on South Sudan and circulated a draft resolution, Russia and China are still expressing doubt over such a move.
Last week, the United States circulated a draft resolution imposing an arms embargo on South Sudan in an effort to limit the spread of weapons and lower the risk of genocide in the country. The circulated draft resolution also suggested additional targeted sanctions, in addition to the six generals from both sides of the conflict already subject to asset freezes and travel bans.
The draft resolution does not seem to have convinced other key members of the Security Council. On Friday, the Security Council issued a statement condemning attacks against civilians and urging the parties to pursue a political process to end the violence. No resolution on further sanctions or an arms embargo were put forward for a vote, although the statement did note that the Council may take additional measures in order to prevent further escalation of violence and conflict if the situation does not improve. Such measures could include targeted sanctions.
Russia and China have long been skeptical over imposing an arms embargo, arguing that weapons are already widespread in the country and an embargo would do little to change the situation. Petr Iliichev, Russia's deputy ambassador to the United Nations, stated that an arms embargo "would hardly be helpful in settling the conflict," and that "introducing targeted sanctions against South Sudanese leaders would be the height of irresponsibility now." Both Russia and China holds a veto at the Security Council, and an arms embargo or sanctions cannot be imposed if they vote against it.
The statement and draft resolution comes after the Council was briefed last week by the Special Advisor on the Prevention of Genocide, Adama Dieng, and the Special Representative of the Secretary-General for South Sudan, Ellen Løj. The situation in the country has escalated in the past months, as a peace agreement from last year has failed to end the violence, which is largely taking on ethnic lines, sparking fears of an imminent genocide in the country.[/fusion_text][fusion_text]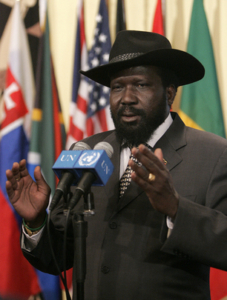 [/fusion_text][fusion_text]Sources:
Al Jazeera: South Sudan: US seeks arms embargo via Security Council
http://www.aljazeera.com/news/2016/11/south-sudan-seeks-arms-embargo-security-council-161118074141598.html
UN News: Security Council 'deeply alarmed' over escalation of ethnic violence in South Sudan
http://www.un.org/apps/news/story.asp?NewsID=55606#.WDIP_LLhDIU
Image source:
Av Photo Credit: Jenny Rockett ([email protected]) [GFDL (http://www.gnu.org/copyleft/fdl.html) eller CC BY-SA 3.0 (http://creativecommons.org/licenses/by-sa/3.0)], via Wikimedia Commons
https://commons.wikimedia.org/wiki/File%3ASalva_Kiir_Mayardit.jpg[/fusion_text][/fusion_builder_column][/fusion_builder_row][/fusion_builder_container]