Zimbabwe grateful for Russian 2008 veto
On an official visit to Harare by a Russian delegation, Zimbabwean officials expressed their gratitude to Russia for vetoing a draft resolution that would have put the country under international sanctions in 2008.
Some favors are sooner forgotten than others. Last week, Zimbabwe showed that a friendly veto on the United Nations Security Council is a favor of the more lasting kind. In late April, Zimbabwean Foreign Minister Simbarashe Mumbengegvi expressed their gratitude towards Russia for its veto of a draft resolution presented in 2008, stating that Russia saved Zimbabwe from international sanctions that would be devastating for the country's economy. The statement came during an official visit from a Russian delegation to Harare to discuss economic cooperation and joining efforts in working against the sanctions that both countries are placed under.
The 2008 draft resolution that Russia vetoed would have condemned election-related violence in Zimbabwe, and established a UN peacekeeping force under a Chapter VII mandate, in condition to imposing economic sanctions on the country. Russia justified its veto by claiming the situation did not constitute a threat to international peace, and that it would complicate diplomatic efforts to end the conflict. China also vetoed the resolution for similar reasons.
[/fusion_text][fusion_text]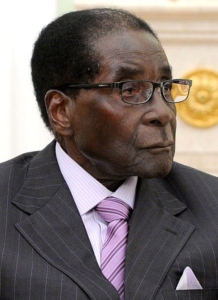 [/fusion_text][fusion_text]Sources:
Daily News: Zim thanks Russia for 2008 UN veto
https://www.dailynews.co.zw/articles/2016/05/03/zim-thanks-russia-for-2008-un-veto
NY Times: 2 Vetoes Quash U.N. Sanctions on Zimbabwe
http://www.nytimes.com/2008/07/12/world/africa/12zimbabwe.html?_r=0
Tass: Russia, Zimbabwe to join efforts against sanctions
http://tass.ru/en/economy/873530
Image source:
Image attribution: Kremlin.ru [CC BY 4.0 (http://creativecommons.org/licenses/by/4.0) eller CC BY-SA 3.0 (http://creativecommons.org/licenses/by-sa/3.0)], via Wikimedia Commons  (https://commons.wikimedia.org/wiki/File%3ARobert_Mugabe_May_2015_(cropped).jpg)[/fusion_text][/fusion_builder_column][/fusion_builder_row][/fusion_builder_container]