The UNSC imposes new sanctions on North Korea
After weeks of negotiations, the Security Council has adopted strict sanctions on North Korea, following their January nuclear test.
On March 2, the United Nations Security Council unanimously adopted a list of new sanctions on North Korea in response to its nuclear test at the beginning of this year. The sanctions have been described as the toughest sanctions in 20 years, and include mandatory inspection of all cargo leaving and entering the country, a ban on exporting coal, iron, and iron ore to finance its nuclear and missile programs, and the freezing of assets belonging to companies and other entities related to those programs.
The negotiations on the resolution has been ongoing for seven weeks, and it was initially unclear how far the resolution would go, as China – North Korea's only ally and a veto-wielding member of the Security Council – was reluctant to impose new sanctions in fear of destabilizing its neighbor. However, North Korea's February ballistic missile test, which constituted a breach of previous UNSC resolutions, seem to have pushed them enough to approve the tougher sanctions advocated by, among others, the United States and Japan.[/fusion_text][fusion_text]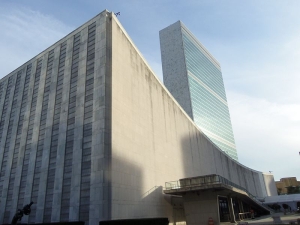 [/fusion_text][fusion_text]Sources:
The Guardian: UN security council approves strictest sanctions on North Korea in decades
http://www.theguardian.com/world/2016/mar/02/un-security-council-adopts-sanctions-on-north-korea 
UN Dispatch: These new UN sanctions are a key test of the Obama administrations
http://www.undispatch.com/these-new-un-sanctions-are-a-key-test-of-the-obama-administrations-north-korea-strategy/
Image source:
By Farragutful (Own work) [CC BY-SA 3.0] (http://creativecommons.org/licenses/by-sa/3.0)], via Wikimedia Commons https://commons.wikimedia.org/wiki/File%3A2012_United_Nations_NYC.JPG[/fusion_text][/fusion_builder_column][/fusion_builder_row][/fusion_builder_container]